How it Works
Invoice
Capture
Nimbello extracts invoices from your inbox and OCR technology captures the invoice data.
Invoice
Approval
Invoices are routed automatically for review and approval.
Touchless Pairing
Each invoice is checked against purchase orders.
ERP
Integration
Nimbello seamlessly pairs vendor and invoice data within your ERP system.
Dashboard & Metrics
Gain transparency and data insights in real time.
Invoice
Capture
Automated Invoice processing starts when an invoice arrives in your email inbox. Nimbello monitors the inbox, and extracts invoice attachments.
Invoice
Approval
Smart Optical Character Recognition (OCR) technology scans the invoice data and verifies accuracy.
Touchless Pairing
Nimbello then matches and pairs data in each invoice with the lines on each purchase order, including 3-way matching. Pairing is the process of identifying which purchase order (PO) line is being billed by each invoice line. Matching is the process of identifying whether the quantity and price on the two are identical. Three-way matching involves cross-referencing the invoice with its corresponding PO and delivery receipt to make sure all pertinent details, such as the quoted order amount and the number of items ordered, match. This is all done automatically by Nimbello and requires no human intervention.
ERP
Integration
If the lines match, the payment is forwarded to your ERP system and is ready to be paid. If the lines don't match, the payment is put on hold and your accounting team is notified to review the invoice. Approvals and notifications are routed automatically based on your workflow.
Dashboard & Metrics
All approved and flagged invoices are shown on your Nimbello dashboard, providing transparency and insights, accessible from anywhere. You have total visibility of each invoice, from receipt to entry into your ERP system.
Nimbello Integrates with your Existing ERP System
With Nimbello's ERP (Enterprise Resource Planning) integration, you can automate your invoice and payment processes, gain better visibility into cash flow, and improve productivity across your business.
Regardless of your ERP system, you can seamlessly pair vendor and invoice data.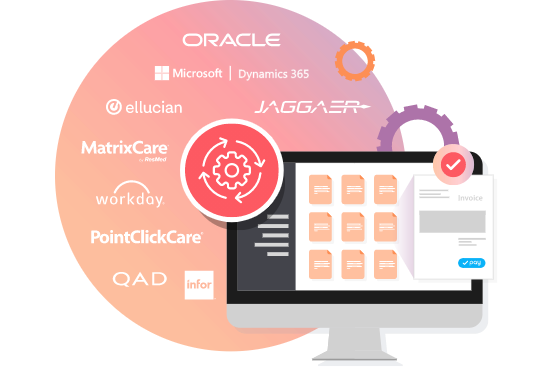 Nimbello supports all ERP systems, including:
Infor Syteline
QAD
Microsoft Dynamics
Oracle
Ellucian Banner
JAGGAER
MatrixCare
Workday
PointClickCare
and more!
Leading Companies Trust Nimbello
Nimbello is loved and trusted by companies of all sizes, even those with very complex invoices. Although we serve companies in all sectors, we have especially deep experience in these markets: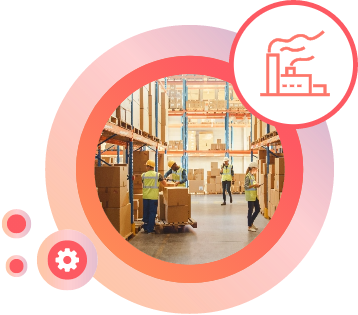 MANUFACTURING
"Nimbello does a great job automating our Accounts Payable operations across 30+ plants by handling data capture, eliminating paper and reducing processing costs."
-Teresa Walters, Vendor Master & Payment Team Manager, Lippert

Lippert manufactures and supplies highly engineered, high-quality components to the RV industry, marine industry, automotive industry and beyond.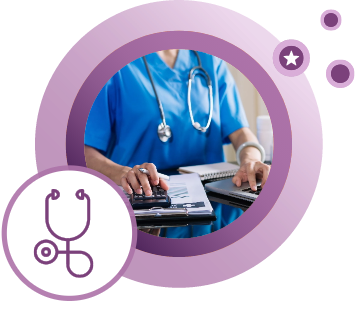 HEALTHCARE
Patient care and patient outcomes are most important in the healthcare industry. Nimbello allows healthcare organizations and their teams to focus on the patient first by eliminating challenges and burdens associated with back office paperwork. With Nimbello's AP automation, finance teams can do more with less, including offering their team the ability to get their work done from home, or anywhere.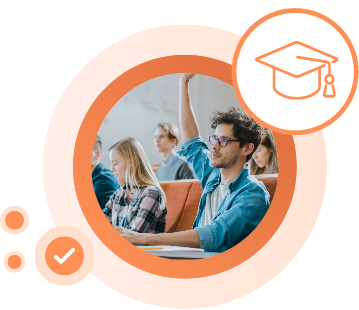 HIGHER EDUCATION
With Nimbello's accounts payable automation, leading universities ensure that they make the most of every dollar spent, eliminating extensive paperwork and manual efforts. Nimbello helps their faculty focus more on strategic tasks, rather than time-consuming accounts payable processes.

Empower your business with expert accounts payable solutions from Nimbello
Find out how Nimbello can manage your AP process, so you can focus on growing your business. Schedule a meeting with our Sales team.